Recently the Rolling Stonehill got the chance to catch up with
Andrew Norkiewicz, who's currently studying at Oxford University in England
. Read all about his amazing experiences below- from country hopping, to "Fire Shots," to getting the chance to roll in a zorbing ball!

RS: How has your abroad experience been so far? What places across the world have you explored?
AN: My abroad experience so far has been extremely diverse and I am very glad that it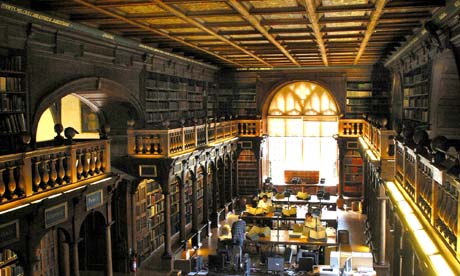 Bodleian Library
has been. I have mixed a lot of academic work (I now know the inside of the Bodleian library better than MacPhaidin) with sport, volunteer work, and travel. Though I have not had much time during term to travel, I managed to make my way around England (Stonehenge, London, Bath) as well as Galway, Ireland in the fall semester. In the spring I was able to spend a week in Vienna, Salzburg, and Munich and I have been currently living in Wales on an organic farm for over a month now.

RS: What's the craziest thing you've done abroad yet?
AN: If my parents are reading: On Easter Sunday I ran on a high coastal path in Wales that took me onto cliffs overlooking the Atlantic Ocean. I ran until the sun set over the ocean and Welsh headlands and was accompanied by four wild horses at one point. If my parents aren't reading: in Vienna I went to a dive bar that offered a "Fire Shot" for only a euro or so. I thought it was just something that would burn on the way down. Rather, it was a shot of alcohol that was lit on fire while in my mouth. All I can say is that Brother Mike's should invest in this.

RS: What are you excited most about to bring back to Stonehill?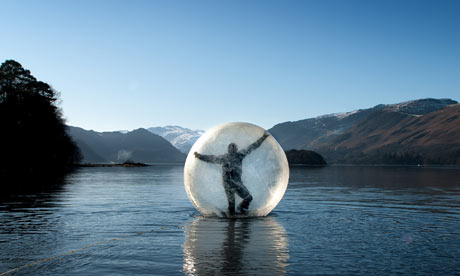 Water zorbing
AN: Two things. Farming and water zorbing. Working on an organic farm in Wales for over a month has been one of the greatest aspects of being abroad. It has been a great break from bookwork and it has given me a variety of practical skills which have helped me to develop a much more comprehensive understanding of my academic studies. I am very much looking forward to returning to Stonehill with what I've learned abroad about sustainability, global perspective of environmental issues, and organic growing in order to help make Stonehill a greener college.
On a more important note: I would very much like to start an initiative that would see the ice-skating rink in front of the science center to be changed into a large pool during the warmer months and used as a water-zorbing station for students. During the Mansfield Ball at Oxford, such a station was created and I can honestly say: running around in a human-sized hamsterball on top of a pool of water was probably one of the greatest/claustrophobic/nauseating experiences of my life.

Carolyn Meklenburg '14
Image credit: Guardian.co.uk